Radiation Protection and Nuclear Gauging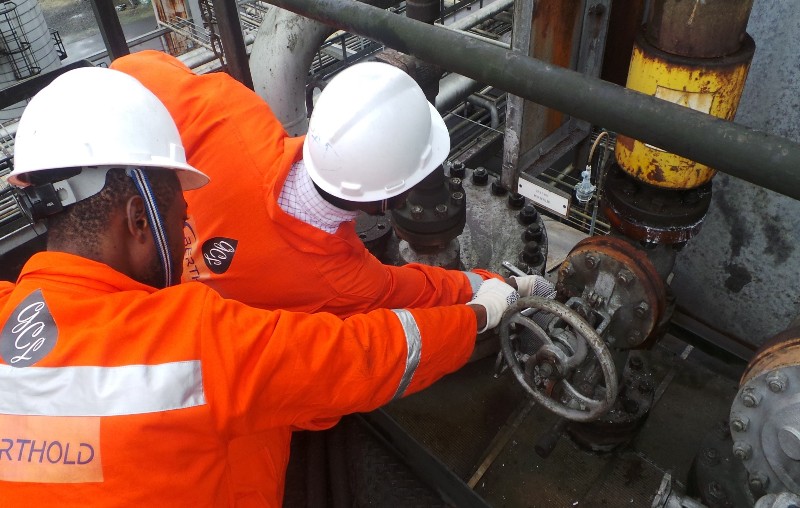 Radiation protection, one of the services of G-Cristal Limited in partnership with Berthold Technology, is a modern production monitoring service that uses high level radiation measurement equipment to monitor or measure the level of radiation in a cement, fertilizer and oil and gas production plant. This measurement could range from a few millimeters up to dozens of meters away.
Multi-Phase Level Measurement in the Oil & Gas Industry
In the oil & gas producing industry, the Multiphase Level Measurement is used to measure the different layers of sand, water, emulsion, oil and foam in separators or slug catchers. Due to the use of Cs-137 isotope and high sensitive scintillation detectors at the vessel outside this solution provides the highest level of reliability and accuracy. The long distance between source and detector allows for covering a wide area which leads to a very good and representative picture of the density profile and even light foam can be perfectly detected – while scaling that might build up over time doesn't affect the measurement performance.
Level Measurement LB 440
The measurement system LB 440 is used to monitor the level of liquids or bulk materials continuously. The non-contacting and non-intrusive measurement can easily be installed on existing reactors, autoclaves, vessels and bunkers.
LB 440 is available with proven 2-wire technology. It comprises a state of the art evaluation unit, which allows for an easy calibration and operation of the measurement and can also be used as a local display.
The system provides both, an intrinsically safe power supply and output signal. LB 440 is proven-in-use and has also applications in SIL2 graded plants.
Level Measurement with SENSseries LB 480
High-sensitive Detectors for Non-contact Process Measurements
The level detector SENSseries LB 480 is a compact field device combining cutting-edge measurement technology with the highest level of manufacturing quality and innovative features – the best system for high demand applications:
high level and low level switch
continuous level measurements
interface layer measurements
Level Measurement With Uni-Probe LB 490
The Uni-Probe LB 490 is used for the non-contacting, non-intrusive measurement of point level or continuous level. Uni-Probe LB 490 is a compact field device, combining both detector and evaluation in one single instrument. It provides interfaces for
HART
Profibus PA
Foundation Fieldbus
Even when using the level measurement Uni-Probe LB 490 in Profibus or Fieldbus systems you will have always the possibility to switch over to HART communication in case of need. In addition the separate 4-20mA current output can always be used as alternative signal output.